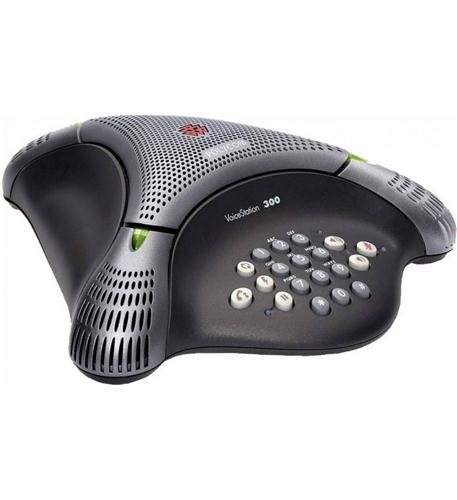 Specification summary:
PolycomVoicestation 300
Crystal-clear conferencing for smaller rooms and desktops
Small conference phone ideally suited for desktops, offices, and other small rooms
Microphone range of up to seven feet
Ideal for small conferences with three to four participants
Compact industrial design fits well on a desk or small table, making it agreat solution for offices
Provides Polycom'slegendary voice quality at an affordable price
Acoustic Clarity Technology (delivers significantly improved voice quality over the previous-generation VoiceStation® 100)
3 Sensitive microphones that offer 360-degree room coverage
Smart technology, such as Dynamic Noise Reduction (DNR), provides maximum microphone sensitivity, while reducing distracting room and background noise
Full-duplex technology ensures that everyone on the call can be heard
Easy to use and install, connects into any analog phone jack
Secondary phone options: plug in a fax machine or computer modem, or plug in a handset for private calls
Universal keypad and intuitive functions
Console dimensions: 9.5″ x 9.25″ x 3.0″
19 Key telephone keypad including on-hook/off-hook, flash, redial, mute, hold, volume up, volume down
LEDs for off-hook, active call, hold, mute
Gated microphones with intelligent microphone mixing
21ft.Cord to console
7ft. Telco cable to RJ-11 telephone jack
© 2020 AlliancePhones All Rights Reserved. AlliancePhones and the Alliance Phones are trademarks of AlliancePhones. Other third party marks and logos displayed on this page are trademarks of such respective third parties.