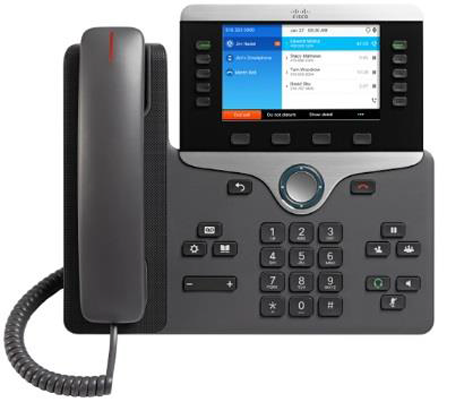 Specification summary:
Network features
Session Initiation Protocol (SIP) for signaling
Session Description Protocol (SDP)
IPv4 and IPv6
User Datagram Protocol (UDP) (used only for Real-Time Transport Protocol [RTP] streams)
Dynamic Host Configuration Protocol (DHCP) client or static configuration
Gratuitous Address Resolution Protocol (GARP)
Domain Name System (DNS)
Trivial File Transfer Protocol (TFTP)
Secure Hypertext Transfer Protocol (HTTPS)
VLAN
Real-Time Transport Protocol (RTP)
Real-Time Control Protocol (RTCP)
Cisco Peer-to-Peer Distribution Protocol (PPDP)
Cisco Discovery Protocol
LLDP (including LLDP-MED)
Switch speed auto-negotiation
Ethernet switch
An internal 2-port Cisco Ethernet switch allows for a direct connection to a 10/100/1000BASE-T Ethernet network (IEEE 802.3i/802.3u/802.3ab) through a RJ-45 interface with single LAN connectivity for both the phone and a co-located PC.
The system administrator can designate separate VLANs (IEEE 802.1Q) for the PC and phone, providing improved security and reliability of voice and data traffic.
USB
A side USB port enhances the usability of call handling by enabling wired or wireless headsets, as well as provides up to 500-mA power output at 5V or 2.5W for smartphone charging.
Bluetooth
Bluetooth 3.0 Enhanced Data Rate (EDR) Class 1 technology (up to 66-ft [20m] range) is supported.
Hands-Free Profile (HFP) is supported for untethered headset connections and voice communications.
Phone Book Access Profile (PBAP) is supported for phone book object exchange between devices.
IEEE Power over Ethernet (PoE)
IEEE Power over Ethernet class 3. The phone is compatible with both IEEE 802.3af and 802.3at switch blades and supports both Cisco Discovery Protocol and Link Layer Discovery Protocol – Power over Ethernet (LLDP-PoE).
Graphical display
The 800 × 480, 24-bit color, 5-in. WVGA display provides scrollable access to calling features and text-based XML applications.
Speaker phone
A full-duplex speakerphone gives you flexibility in placing and receiving calls with hands free. For added security, the audible dual tone multifrequency (DTMF) tones are masked when the speakerphone mode is used.
© 2020 AlliancePhones All Rights Reserved. AlliancePhones and the Alliance Phones are trademarks of AlliancePhones. Other third party marks and logos displayed on this page are trademarks of such respective third parties.