The Top 5 Ways that Companies Can Use VoIP to Future-Proof Their Businesses
If there is one client every business must cater to, it's the future. Only the businesses that accurately prepare for future challenges and business practices survive the market place. So what's one of the best ways to future-proof a business? VoIP.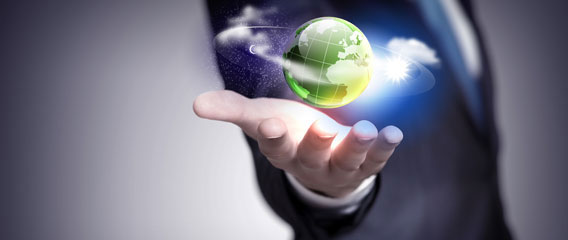 VoIP, that funny little word, is the backbone of one-third of businesses today, with that number growing each year. VoIP (Voice over Internet Protocol), is the tech term for Internet calling. VoIP allows users to make and receive phone calls over the Internet instead of making calls over traditional analog telephone lines.
VoIP technology is more than phone service. From IP faxing, to IP video conferencing, VoIP allows businesses to stay ahead of the game. Here are the top 5 ways that companies can use VoIP to future-proof their businesses.
1.VoIP Phone Service
If there is one thing on the way out, it's analog phone service. Experts are forecasting that the Public Switch Telephone Network, the network that supports analog phone technology, will become obsolete by 2018. The replacement? VoIP.
Business VoIP phone systems are cheaper than traditional phone systems, and they allow for greater wire-free technology for scalable extensions and modern telecommuting workers.
2. Cloud PBXs
Everything is going cloud-based these days, and for good reason. Cloud technology frees companies from the constraints of old expensive machinery, such as the PBX machine. The PBX is the central part of the office phone system. It's what connects incoming calls to the correct office extension lines and connects extension lines to outside numbers. Cloud PBXs, also called hosted PBXs, are PBXs hosted off-site by the business VoIP providers.
Cloud PBXs use the Internet to connect calls, which is far cheaper than analog technology. Cloud PBXs also make it easier for companies to prepare for future company growth with scalable extensions. VoIP technology makes it easy for businesses to wirelessly add, remove, or change extensions, thus quickening the time for expansion within both the central office and remote offices.
3. IP Faxing
Traditional faxing isn't flexible enough for a modern business, which is why so many companies are now utilizing IP faxing. IP faxing sends faxes over the Internet as paper faxes or email attachments. Companies can still use their in-house fax machine to use IP faxing, or they can get rid of it completely and just use their computers, smartphones, or tablets to stay connected. This modern technology cuts costs and allows shared information to arrive quicker and more efficiently.
4. IP Video Conferencing
As Thomas Friedman famous wrote, "The world is flat". Global business is the growing trend for companies on this side of the century. With VoIP's IP video conferencing, business meetings with remote offices or remote business partners become much cheaper, easier, and faster. IP video conferencing brings face-to-face chatting to virtual business meetings. Users can join an IP video conference meeting anywhere in the world to stay connected.
5. Remote Employees
Remote employees are the future of the workforce. According to the latest statistic by the American Community Survey, telecommuting is up over 11% since 2008, and that number is projected to rise in the coming years. VoIP is an excellent tool for businesses with remote employees. Remote workers can download mobile VoIP apps to their smartphones, tablets, laptops, or any other Internet-enabled device to receive and make office phone calls from their homes or on the go. Remote workers can also use IP faxing so they can send and receive company faxes, even when they don't have access to a physical fax machine. A telecommuting workforce is cheaper to maintain and is the growing trend of the decade.
The future is one fickle client. Only the most modern and innovative businesses survive the unknown, and businesses with VoIP phone service own the technology of the future. From Cloud PBXs, to IP video conferencing, to IP faxing, VoIP allows businesses to stay ahead of the curve.
Jennifer Cuellar is a VoIP writer and editor based out of Southern California. She covers the latest developments about VoIP and IP business solutions.